Your superman, jungle gym, coach, tutor, teacher, mentor, protector, best friend, buddy, pal, go-to-guy, poppa bear, daddy-o ... No matter what you call him, we are willing to bet the lawnmower, the powertools, and the '57 Chevy that your Dad could take better care of himself. Dads are notorious for making sure everyone else in the family wants for nothing, whether it's dolling out extra dollars for that school field trip, secretly buying you the expensive pair of shoes that Mom denied you, or treating the whole team to ice cream after a big game. Dad's are always dolling out the dough to make others happy. But what about Pop? Shouldn't Dad be allowed to escape the stresses of work and family and just take some time to relax... without breaking the bank? OF COURSE!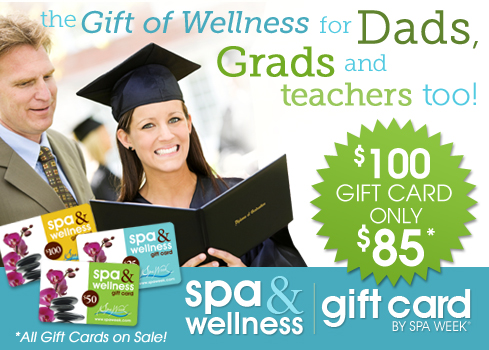 The spa is the perfect place for Dad to unwind and recharge while focusing on his overall health and well-being. There are lots of guy-focused treatments, like Deep Tissue Massages and Gentlemen's Facials, that provide tangible wellness benefits (improved circulation, decreased blood pressure) without making Dad feel like a girly-girl. In honor of Father's Day on June 17, you can purchase a
$100 Spa and Wellness Gift Card
for $85 on
SpaWeek.com

.
Plus
,
all other cards on sale too from now until June 18!
"We hope that this sale serves as yet another reminder of why the gift of spa is so invaluable. Whether it's thanking our father figures for all they've sacrificed over the years, or congratulating a recent grad on their big accomplishment, there's nothing like gifting a spa treatment to cater to one's own health and well-being," said
Cheryl Reid, CEO and Founder of Spa Week Media Group.
Spa & Wellness Gift Cards by Spa Week

®
are redeemable 52 weeks a year at over 5,000 spas and wellness locations across North America. Best of all, they never expire, your dad and grad can enjoy their well-deserved spa treatment whenever they want. They'll be sure to thank you!